Tetsutaro Inumaru graduated from Haverford in 1902, having written a 180-page senior thesis entitled "The Cotton Industry of the United States." He was supported by funds from the Japanese government and sent reports regularly to the Japanese Department of Agriculture and Commerce. Inumaru returned to Japan and had a career in manufacturing involving cotton goods and tobacco.
José Padin, from San Juan, Puerto Rico, graduated from Haverford in 1907 and received a master's degree from the college in 1908. He had a distinguished career in education in Puerto Rico as a teacher, scholar, and administrator. His widow endowed a scholarship fund in 1967 to enable students from Puerto Rico to attend Haverford.
Man Hoi Tang graduated from Haverford in 1915. His senior sketch combines racial stereotypes with humor and affection. He returned to China and pursued a business career in Shanghai. See the full yearbook online.
Osmond Pitter, a gifted cricket player from Jamaica, chose to study at Haverford, perhaps in part because of his earlier training at Happy Grove School which had been founded by Quakers.
Respected sociologist Ira de Reid came to teach at Haverford in 1947. He was part of a small group who desegrated professorships at Northern colleges and universities. See the Ira de Reid digital exhibit for more information.
Serendipity Day Camp
Members of the Black Students' League and others protest in front of Roberts Hall, February 1972
Setting up part of the AIDS Memorial Quilt in the Alumni Field House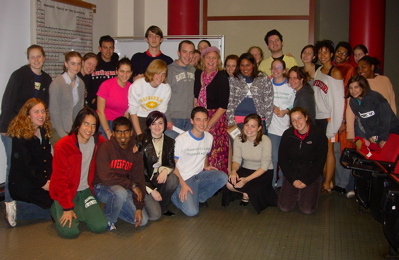 Members of Haverford's Sexuality and Gender Alliance (SAGA) group at a talk in 2005.